Main content starts here, tab to start navigating
Hours & Location
Rear-10334 82 Ave,
Edmonton, AB T6E 1Z8
(780) 244-2253
amy@sugaredandspiced.ca
We're closed Monday through Wednesday, open at noon most days except Saturday when we open at 10. Hours change slightly with the seasons.
Current Hours
M/T/W: Closed
Thurs/Fri: 12 to 5
Saturday: 10 to 3
Sunday: 12 to 3
During the Edmonton Fringe Festival, we're open earlier and we don't close until 10 minutes after our last customer. Follow us on social media and sign up for our newsletter to stay in the loop!
You can also find us on Instagram, Facebook, and Twitter, or if you really want you can call us at 780-244-CAKE but we're not great at finding where we put the phone.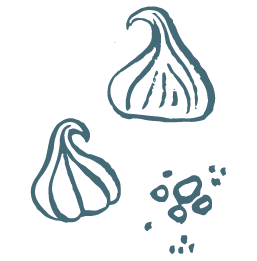 We're halfway between Meat & the Next Act on 104 Street and The Strathcona Hotel on Gateway Blvd, but you won't find us on the front street. The only access to our shop is in the back alley, tucked in behind the Varscona Theatre, within view of the Old Strathcona Farmers' Market.
The alley is occasionally hard to access due to delivery trucks, poorly placed road construction signs, and annual world-renowned theatre festivals, but there is quite often a free parking spot right in front of the door. The Old Strathcona Farmers' Market parking lot (free on Saturday, and inexpensive the rest of the week) is less than 200m away. Plenty of street parking is available throughout the neighborhood.
"French pastries are cool and all, but if you're longing for a homey North American experience (pies, cookies, bigger-than-your-head-cakes), I would consider sashaying over to Sugared & Spiced, a unique bakery crowd-funded by former farmer's market vendor Amy Nachtigall… And if we're going by degree of hidden-ness, then Sugared & Spiced wins the derby because it's LITERALLY HIDDEN IN AN ALLEY-WAY" - The Wanderer