Main content starts here, tab to start navigating
Baked from Scratch, in Small Batches...
... in a back alley in the heart of Old Strathcona
Sugared & Spiced Baked Goods is Amy Nachtigall (Baker and Artistic Director), Jeff Nachtigall (Salesman and Troublemaker), and a small crew of bakers working out of the hidden-est of hidden gems in Edmonton.
We started baking cookies for the short-lived Highlands Farmers' market in the summer of 2012, and quickly gained attention for some unique cookie flavour combinations; a peanut butter chocolate chip and bacon cookie landed us on the Tomato's Top 100 Best Things to Eat and Drink in Edmonton list before we had even signed up for the second market season. (Various items from the Sugared & Spiced menu have appeared on this list again in 2014, 2016, 2017, 2018, and 2019.)
This early success prompted Amy to sign up for NAIT's Baking Certificate program and in 2013 she set out on her own taking orders for cakes, cookies, scones, and all kinds of baked goods. For the next two years, Sugared & Spiced could be found at 2 local farmers' markets, a couple of independent coffee shops, and began to slowly expand into the cake business.
Amy is whipping up tasty pastries like brioche and tarts and buns and scones that will make you croon like Edith Piaf."
-Twyla Campbell (Sept 17, 2013)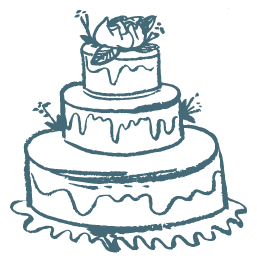 In the Summer of 2015, we launched Cake Club. This would be the first of two big tests of the market for our brand of baked goods. The first round of Cake Club annual memberships sold out within a few months. The 2nd market test was a crowdfunding campaign in the Fall of 2016. We ran an ATB BoostR campaign in September/October 2016 with the goal of raising $20,000 towards the initial costs of renovating a bakery and purchasing additional equipment. By the end of the campaign we had raised just shy of $57,000.
With the success of Cake Club and the ATB BoostR campaign behind us, we set out to find a location that was a perfect match for our product and personality. After several years of hard work and determination, our first brick and mortar location opened at Rear-10334 82 Avenue in September 2017.
Now we spend our days bringing joy to our customers through quality baked goods, excellent customer service, and a good sense of humor. People tell us we make them happy. That (plus being able to pay the bills) makes us happy.
There's a good chance Amy's in the back there right now, making something delicious and beautiful.